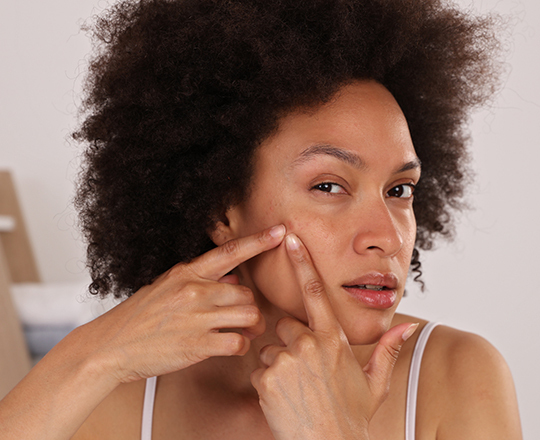 Acne (acne vulgaris) is a chronic skin condition that causes pimples, blackheads, and whiteheads to appear on the skin, more specifically on the face, neck, shoulders, back and chest.
Oil glands under the skin produce sebum which carries dead skin cells through the follicles to the surface of the skin and a small hair grows through the follicle to release the sebum. When the follicle is blocked or plugged by dead skin cells, sebum and hair, it is infected by bacteria, and a pimple forms.
Acne most commonly occurs in puberty due to hormonal changes in the body. According to a newsletter printed in 2017 by Medical News Today, "at least 85 percent of people in the United States experience acne from the ages of 12-24 years". It is mostly hereditary, but other factors such as the climate, menstrual cycle and stress can be contributing factors. Acne can range from mild to severe, and although not considered a dangerous or a medically life-altering condition, it can have a negative impact on those who have severe cases, as it can affect self-esteem.
Treatment for acne consists of over-the-counter topical medications, medical procedures, and lifestyle or dietary changes. Most people with severe acne will see medical professionals for an accurate diagnosis and treatment.
In a salt therapy session, the microscopic salt particles are absorbed by the skin's epidermis. The oil under the skin that can cause acne is then absorbed by the salt, leaving the skin less clogged and less oily, preventing more acne breakouts. Due to salt having anti-bacterial and anti-inflammatory properties, the skin is cleansed as if with a natural astringent and the salt acts as an exfoliant, shedding dead skin cells.
Sea Salt Therapy recommends sessions at least once a week for those who suffer from severe acne. It would be recommended to wear a sleeveless shirt for those who have acne on their back, shoulders, and arms. Whether you are in Sea Salt Therapy's salt rooms for respiratory wellness or purely just for the health of your skin, the skin will benefit overall from salt therapy sessions.
Our salt rooms are equipped with comfortable chairs, a t.v. with access to Netflix, and premium channels for adults and teens with sand toys for children.
It is important to note that Salt Therapy is a natural supplemental way to help alleviate symptoms but does not cure any condition or disease.